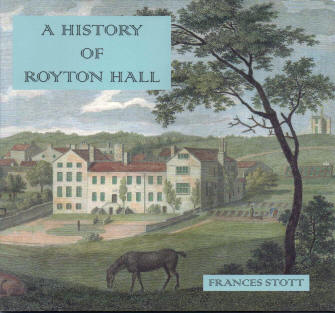 Located in Royton, Lancashire, the book examines the history of Royton Hall which was demolished in 1939.
The introduction gives details of the township of Royton from its beginnings to the present day.
The book is also the story of its owners: the Byrons who later purchased Newstead Abbey in 1540; the Percivals; the Pickfords ; the Radcliffes and the tenants who lived there in the nineteenth and twentieth centuries including Dr. Godfrey who later purchased the Hall in 1922.
The author has gathered together a large collection of photographs and illustrations of the Hall from 1794 until 1939 during its demolition.
All the proceeds go to Dr Kershaw's hospice in Royton
. Up to now sales have already raised over £3,750 for this cause.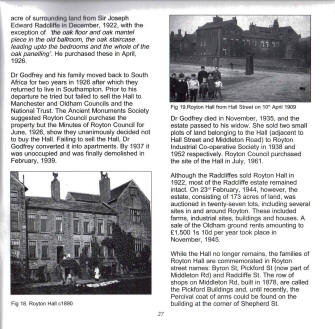 Paperback - Published 2001 ISBN 978-0-9539251-1-7
Size 20.5cm square
Includes: 3 Family Trees; 4 Sketches; 16 Photographs;
2 Plans; 3 Maps.
28 pages £3.99
Postage costs:
UK First Class £1.60
UK Second Class £1.50
For other destinations please email:
greenfieldhousepublications@outlook.com
Available from Greenfield House Publications via email at
greenfieldhousepublications@outlook.com